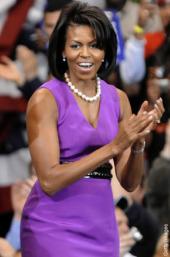 President Barack Obama, his wife and two daughters, must be the most closely protected family on the planet – so it's disturbing to hear that sensitive information about the emergency measures that would be taken to protect them in a crisis might have been leaked onto the internet.
A US House of Representatives Committe hearing has heard that a document revealing details of the secret service safe house that would be used by first lady Michelle Obama in the event of the White House being evacuated were shared via the Limewire peer-to-peer (P2P) file-sharing network.
In addition, the hearing heard, sensitive details regarding the location of every nuclear facility in the USA were available via file-sharing systems.
It seems clear to me that government and secret service agencies need to take a harder line in controlling the use of P2P software on their users' computers. If regulations and the appliance of a thwack around the head with a cricket bat isn't getting the message through – then clearly it's time for technology to help control usage of such software.
Because this isn't the first time that P2P data leakage has hit the Obama administration. Earlier this year I reported on how engineering and communications information about the US Presidential helicopter, "Marine One", were found on an IP address located in Tehran.
It was speculated then that a defence contractor might have installed P2P software onto his or her PC, which then leaked the sensitive files across the internet for anyone to access.
As we've reported before, uncontrolled applications are causing serious concern for system administrators. Surveys conducted by Sophos indicate that 86.5% of respondents said they want the ability to block P2P file-sharing applications, with 79% indicating that blocking is essential.
By the way, if you enjoy the podcast you can download many more via iTunes or directly from our website.