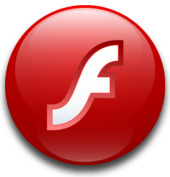 Adobe has issued a security bulletin detailing critical vulnerabilities that have been discovered in the current versions of Adobe Flash Player for Windows, Macintosh and Linux.
An update issued by Adobe claims to resolve 10 vulnerabilities in Flash Player and AIR – which if left unpatched could leave open a door for hackers to infect innocent users' computers. One of the most interesting fixes concerns the vulnerable version of the Microsoft Active Template Library (ATL) described in Microsoft Security Advisory (973882) that Microsoft issued as an out-of-band patch earlier this week.
Adobe is recommending that users upgrade to Adobe Flash Player 10.0.32.18. They further recommend that users of Adobe AIR version 1.5.1 and earlier versions update to Adobe AIR 1.5.2.
People who are still using Flash 9 are advised to update to version 9.0.246.0 of the Flash Player.
Although not available at the time of writing, the company is also anticipating that it will provide an an update for Adobe Reader and Acrobat v9.1.2 for Windows, Macintosh and UNIX shortly.
We seem to be seeing more and more attempts by hackers to exploit vulnerabilities in Adobe's software – so it would be a very good idea for everyone to update their systems as soon as possible.