Scores of Dutch websites have been defaced by hackers who have posted pro-Islamic slogans and doctored images of a right-wing politican.
Turkish hackers have been blamed for the website defacements, which display a photo of right-wing politician Geert Wilders, edited to resemble a monkey.
The hacker wrote a mesage on some of the affected websites:
Our war will continue against the ones who are against the real religion Islam.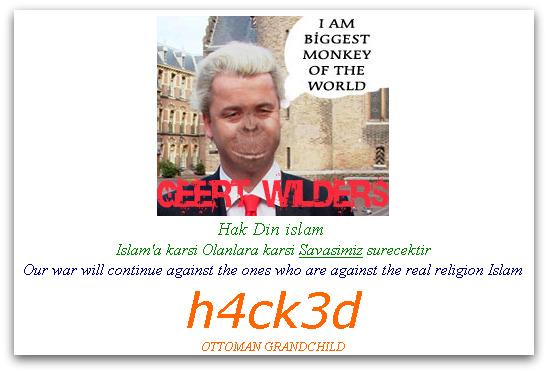 Wilders, who leads the Freedom Party in the Netherlands, is well-known for his controversial views about Islam (which caused him to be barred from entering the UK) and has spoken out against Turkish membership of the EU.
Of course, this is far from the first time that hacktivists have sprawled political graffiti over websites, and it won't be the last, but it underlines once again that many websites are poorly defended against hackers.
Just last week we saw Chinese hackers deface the website of the Melbourne International Film Festival, for instance, seemingly in protest about the event's invitation to Uighur leader Rebiya Kadeer.
If hackers can deface your website with a political message they can also plant malicious code on your site, designed to infect your visitors.
Harden your websites from attack, or cybercriminals may be making a monkey out of you next time.