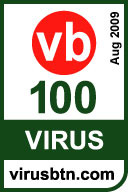 The folks at Virus Bulletin magazine have published their latest edition, including details of their most recent comparative test of anti-malware products.
Virus Bulletin tested 35 products from different vendors, examining their ability to detect 100% of the in-the-wild viruses without false alarming – this time on the Windows Vista Business Edition SP2 x32 platform.
It sounds tacky to blow our own trumpet, but hey, Sophos did rather well so lets toot the horn.
The magazine described Sophos's anti-virus solution as "a worthy winner" with "detection rates very impressive across all the sets." This is the 48th time Sophos has won the VB100 award from the independent testers at Virus Bulletin for its protection capabilities.
As is now becoming standard, Virus Bulletin also ran the RAP ("Reactive and Proactive") test they introduced earlier this year, helping users form a better impression of the heuristic and generic proactive detection capabilities of security software – specifically how well products perform against the malware that has appeared after vendors submitted their products for the test.
Sophos outperformed a number of competitors in this important test. So hip-hip-hooray to the guys and gals in SophosLabs for doing so well.
You can find full details of the review in the August 2009 edition of Virus Bulletin magazine (Sorry, I think you may need to be a paid-up subscriber to VB to read it).