Mozilla, famous for its Firefox web browser, has closed its online store after a security breach that have compromised customers.
In a blog post Mozilla confirmed that it had decided to suspend the store after it was discovered that GatewayCDI, a third-party firm running the backend of the ecommerce operation, had suffered an unspecified security incident.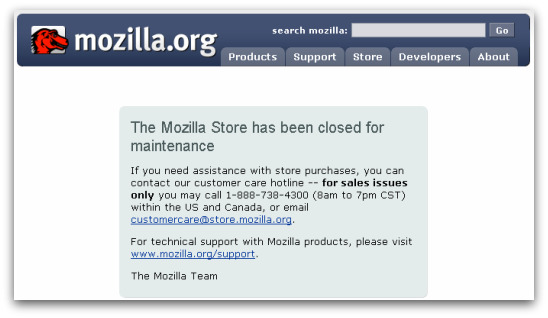 The store sells promotional items promoting Firefox, including T-shirts, coffee mugs and mouse pads carrying the logo.
Details about the nature of the security breach have not yet been made public, but Mozilla says that GatewayCDI is investigating the incident, and will be contacting Mozilla Store customers who may have been affected.
Obviously there will be concern that hackers may have been able to access personal information such as names, addresses, email contact information and possibly credit card information that could be used for the purposes of identity theft.
This is clearly bad news for Mozilla Store customers who may be impacted by the security incident, but I can't help but feel sorry for the guys at Mozilla too. From the sound of things they did nothing wrong other than put their trust in a third party ecommerce company, and yet it's Mozilla's name which will make the headlines and be tarnished as a result of this.