Popular celebrity and media-watching blog website Gawker.com struggled to remain on the internet earlier this week as it found itself the victim of unwanted attention from hackers.
Gawker revealed in a blog post that its network of blogs had sufferered a denial-of-service attack that flooded company servers with traffic, making it near impossible for legitimate users to browse their sites.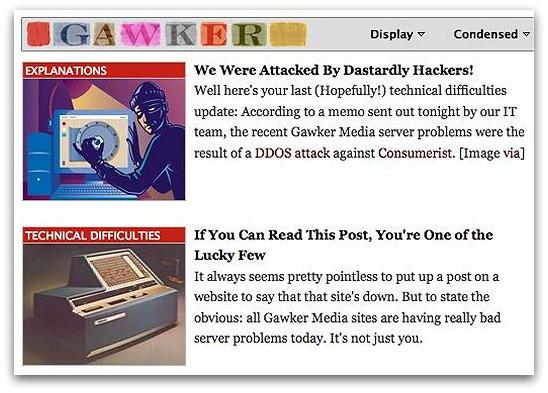 Gawker's CTO, Thomas Plunkett, told the New York Times that the attack was aimed at Consumerist.com, a site hosted by Gawker, but that other parts of the Gawker online empire had also suffered under the barrage.
Distributed denial-of-service (DDoS) attacks are often used by hackers who have a vendetta against a particular organisation, want to blackmail a site into paying "protection money" for their site to remain available, or sometimes political reasons. They typically take advantage of botnet computers that have been compromised by malware and are under the control of a hacker who can order potentially thousands of innocent computers to flood a site with unwanted traffic at the press of a key.
In other words, if you don't want to be part of the denial-of-service problem – make sure your computer is properly protected with up-to-date anti-virus, security patches and a decent firewall.
Apparently the attack wasn't bad news for everyone, however. The editor of Jezebel, a website focusing on sex and popular culture for female readers, said that she told her team of writers to take a "much-needed break" from churning out blog entries.