Cyxymu, the Georgian blogger who has been identified as the likely intended target of the high profile denial-of-service attacks seen in the last 24 hours, appears to be popping up everywhere.
Aside from giving interviews to The Guardian and CNN, we are also seeing his name once again in our spamtraps today.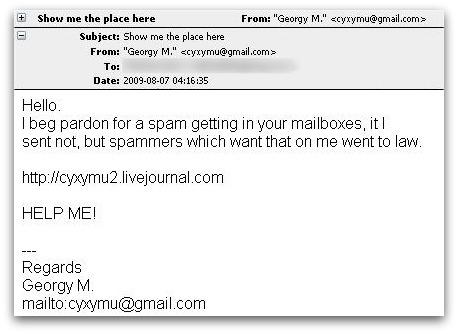 Remember that these spam messages are being seen after yesterday's major attack on Twitter, LiveJournal, Facebook, etc.
My guess is that these emails aren't really being sent by Cyxymu (who, according to his YouTube profile is 34-years-old, and tells reporters that his real name is Georgy), but are an attempt by troublemakers to bring his name (and various webpages) into disrepute.
As well as the LiveJournal example above, we've also seen emails claiming to link to his YouTube, Facebook and Blogspot pages.
Of course, it's unlikely that these emails are going to cause the websites referenced to even quiver under the load (after all, would you click on the link?) but it's always possible that hackers could launch another denial-of-service attack if they have a botnet under their control.