Url-shortening service tr.im has announced that it is closing down, claiming that it cannot find a way of making money to continue its development and support.
Nambu, the company behind tr.im, says in a blog post that it has not been able to find a viable ecomimical model to continue the project (users won't pay to shorten their urls, and not enough companies are interested in purchasing trend data about the hottest links).
Life must have got even harder when Twitter chose bit.ly as their preferred URL shortener earlier this year.

What's most interesting to me, however, is that last week it was reported that tr.im suffered from what it claimed to be a denial-of-service attack last Wednesday, which blew the site offline for some hours.
Fascinatingly, it has been suggested, however, that hackers may not have been to blame for the tr.im outage, but instead that budget airline JetBlue may have overwhelmed the service. Last Wednesday, JetBlue attained over a million followers on Twitter, and announced a one-day only deal cutting flights by 20 percent.
They used – you guessed it – tr.im to shorten the link, and lo-and-behold later acknowledged that the flood of traffic may have been responsible for breaking the back of tr.im.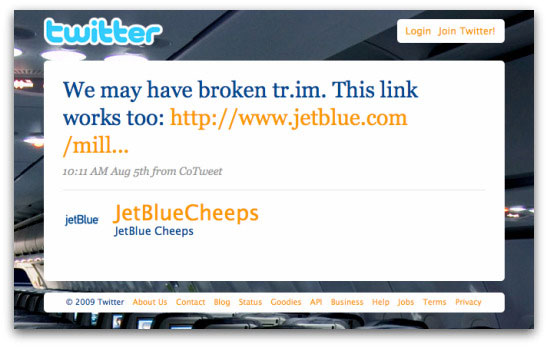 Whether JetBlue was responsible for tr.im's downtime is probably something that's only really known to the folks at Nambu, but it may have been the final straw which broke the camel's back for a service that was investing time and effort into a system that was finding little in the way of financial reward.
I'm sorry to see tr.im go. I used it for a while for many of my own posts on Twitter (I now most often use bit.ly) and thought it presented its service attractively. Apparently the company says that tr.im links will continue to redirect, and will do so until at least December 31, 2009.