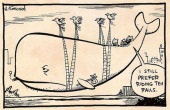 "Fool me once, shame on you; Fool me twice, shame on me"
I can't help but feel sorry for Twitter as it tripped up this evening after apparently becoming the unwitting victim of a distributed denial-of-service attack for the second time in less than a week.
Twitter's Alex Payne told developers of third-party Twitter applications about the outage at 8:23pm UK time:
"We're currently experiencing another wave of Distributed Denial of Service (DDoS) attacks against our system. Expect periodic slowness and errors until the attack passes or is countered by our operations team and hosting provider. Updates will be provided as we get them. Thanks for your patience."
Twitter also informed users of the downtime via a post on its status blog:

The good news is that, unlike last week's attack, Twitter was back up-and-running in about half-an-hour. So kudos to them for managing to avoid too much disruption for millions of their users.
However, commentators will be wondering if this is a similar attack to the one conducted last week (in other words, a return to political hackers taking their revenge on a Georgian blogger with views they don't like) or a copycat who heard how easy it was to bring down Twitter, and thought it might be "cool" to try it for themselves.