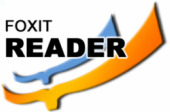 Foxit Reader is a popular alternative to Adobe's PDF reading utilities, allowing Windows users the ability to view Adobe Acrobat files without some of the extra baggage that Adobe's own solutions carry with them.
However, Foxit Reader is not yet officially available for Apple Macs although the developer's support forums has plenty of evidence that Mac users are hungry for a version for Mac OS X.
And it is these impatient users, perhaps, who are most at risk from hackers who have adopted the disguise of a version of Foxit Reader for Mac in their latest escapades.
According to a press release from the Foxit Corporation, hackers have disguised versions of the Jahlav Trojan horse as a pirated version of Foxit Reader for Mac.
Any user foolish enough to download a version of "Foxit Reader for Mac" from a source other than the official Foxit website at www.foxitsoftware.com is, therefore, risking infecting their iMac or MacBook.
Foxit's press release quotes George Gao, their VP of Sales and Marketing, as saying "While imitation may be the sincerest form of flattery, we are not happy about the recent malware attacks masquerading as our Foxit Reader. Foxit has always strived to insure that our solutions are secure for our users, and remains committed to address any Foxit product security issue in a professional and timely manner."