Apple has issued two separate security updates for users of different versions of its Mac OS X operating system, designed to better protect its users from hacker attacks.
Users of Mac OS X 10.5.8 , Mac OS X 10.4.11, Mac OS X Server 10.5, Mac OS X Server 10.4.x (Universal), Mac OS X Server 10.4.x (PowerPC) are being urged to download security update 2009-05, which reportedly fixes a number of vulnerabilities – some of which could be used by hackers to launch malicious code on victim computers.
Meanwhile, early adopters of Snow Leopard (Mac OS X 10.6) would also be wise to update their systems to version 10.6.1, which incorporates an updated version of the Adobe Flash Player.
You'll recall that just over a week ago it was revealed that users who upgraded to Snow Leopard were silently downgraded to an earlier more vulnerable version of Flash Player without their knowledge.
To quote Apple's own support advisory on the subject:
Multiple issues exist in the Adobe Flash Player plug-in, the most serious of which may lead to arbitrary code execution when viewing a maliciously crafted website.
It's great to see that Apple has now rolled out the correct latest version of Adobe Flash, as it will increase the security of millions of internet users.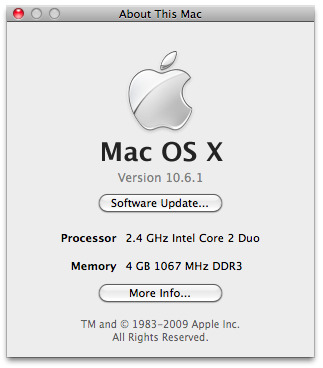 As usual, Mac users can update their systems via Software Update or by visiting the Downloads section of Apple's website.