The social media website Imeem allows its members to share videos, podcasts, photos and blog entries with each other, but it's also being exploited by spammers to spread their unwanted messages too.
Here's an email which arrived in the inbox of one of my email accounts: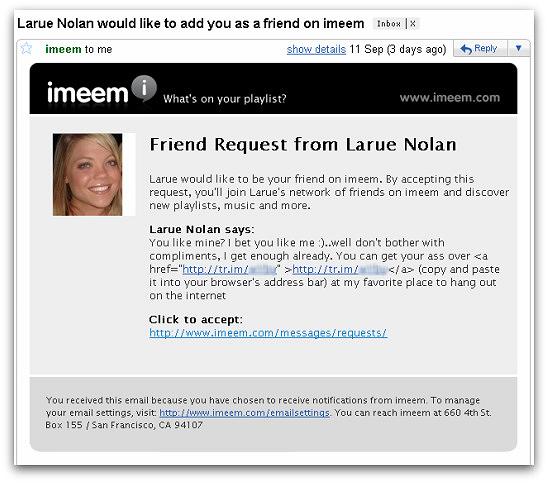 The email has been sent via the Imeem site from someone calling themselves Larue Nolan, urging me to "get my ass over" to a website she thinks I would be interested in. (I was a little perplexed as I don't own a donkey, but there you go..) Apparently it's Larue's favourite place to hang out on the internet.
However, from the email it's hard to tell what website she's recommending, as the link is hidden behind the tr.im url shortening service.
But if anyone else is curious, here's what lying at the other end of that link: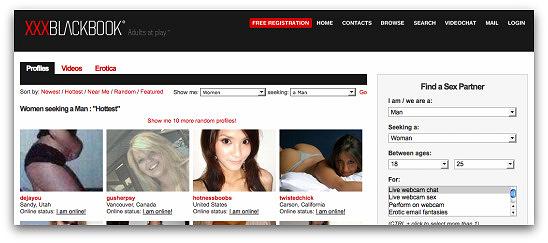 It's an adult website, specialising in offering some x-rated webcam action (according to a BBC News report today this is a growing industry with a rising number of British "models" earning money via this route).
The spammers are hoping that men who visit the site will be prepared to reach deep into their pockets, and pay for the privilege of watching a bored young woman in her undies talking dirty.
As we revealed earlier this year, it has become surprisingly common to receive spam via social networking sites. Most of the criminal activity we've seen has been on Twitter, Facebook and MySpace – but clearly users of less famous sites such as Imeem are also being put at risk.
Maybe now would be a good time to remind all internet users to take the Sophos Spam Pledge:
(Enjoy this video? You can check out more on the SophosLabs YouTube channel and subscribe if you like)
View our video on YouTube, and leave a response (perhaps even a video!) supporting the pledge not to buy anything advertised via spam.