Patrick Swayze, the star of movies such as "Dirty Dancing" and "Ghost", has died after fighting cancer of the pancreas for two years.
Although the entertainment world mourns his loss, heartless hackers are taking advantage of the hot news story by creating malicious webpages that lead to fake anti-virus (also known as scareware or rogue anti-virus) alerts.
Watch the following YouTube video to see how easy it is to be hit by an attack like this:
(Enjoy this video? You can check out more on the SophosLabs YouTube channel and subscribe if you like)
Sophos has added detection for the fake anti-virus program, identifying it as the Troj/FakeAl-L Trojan horse which can affect Windows computers.
As you can see, the fake scan that the site "performs" is very similar to other attacks that we have seen in the past, mimicking the look of Windows – even though I have captured the screenshot on an Apple Mac.
The tactic used by the cybercriminals on this occasion is the same as the one we saw after the death of Natasha Richardson and when they exploited interest amongst the public in the anniversary of the 9/11 terrorist attack last week.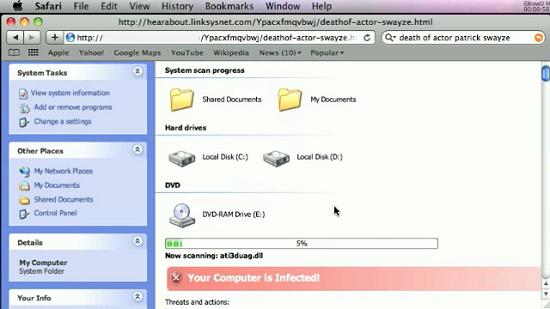 Clearly the cybercriminals are no slackers when it comes to jumping on a trending internet topic, and are more professional than ever before in spreading their fake anti-virus scams. The question is – are you being equally expert in keeping your security up-to-date and your wits about you when you surf the net?