Vienna was immortalised by Ultravox, Paris has its springtime, and Leonard Cohen took Manhattan (and then Berlin). But I can't think of a single song which celebrates the joys of Geneva, from where I write this blog to you tonight.
Situated on the shores of an enormous lake, and within spitting distance of France, you might have expected someone to have committed its charms to music – but as far as I can tell no-one has bothered.
I'm here (as are most of the world's leading anti-virus experts) for three days of graft to discuss and listen to boffins pontificate on the biggest issues facing companies in the fight against malware. Trust me, there was a lot of blood, sweat and tears from my end just trying to find a plug that would fit in the Swiss hotel room's power sockets..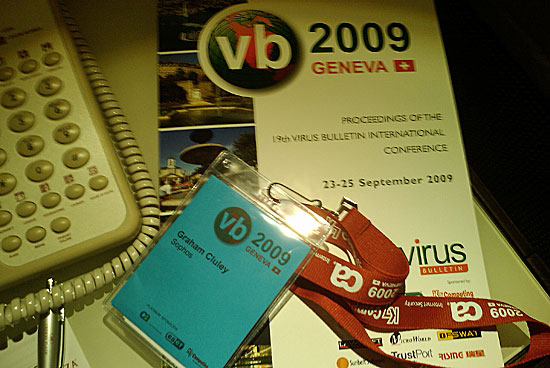 The conference starts first thing Wednesday morning with Virus Bulletin editor Helen Martin opening proceedings, followed by Google's Eric Davis giving a keynote presentation.
And then it all kicks off, with talks from companies such as Microsoft, McAfee, ESET, Fortinet, Norman, Kaspersky, Symantec and BitDefender, amongst many others. Oh, and Sophos will be speaking too.
Worryingly, the Virus Bulletin organisers are inviting everyone to a Welcome Reception tomorrow night (no, I'm not sure how a welcome reception can be held one third of the way through the conference – but never mind) which promises "a twist on some very traditional Swiss entertainment". Sounds ominous.
I received that titbit of information from some of the VB crew who I found hard at work in the bar. Apparently they had spent much of that morning observing rehearsals in the hotel's breakfast room for this weekend's forthcoming Miss Switzerland beauty contest. As far as I could make out from the exhausted VB staff, the rehearsals largely consisted of pretty young women dressed as Puss in Boots practising walking up-and-down.
Now there's something to sing about.