One of the most interesting talks I've attended so far during this year's Virus Bulletin conference was the one by Dmitry Samosseiko about the Russian "Partnerka".
The Partnerka is the complex network of affiliates who profit from spam and malware. Run like a multi-level marketing scheme, if you've ever received an email which points you to a "Canadian Pharmacy" website, you've met the Partnerka.
Dmitry's investigations are discussed on Paul Ducklin's blog – but one thing that jumped out at me in his talk was that there is a faction of the Partnerka (which Dmitry has dubbed the "codec-partnerka") which is dedicated to the sale and promotion of fake Mac software, designed to compromise your computer.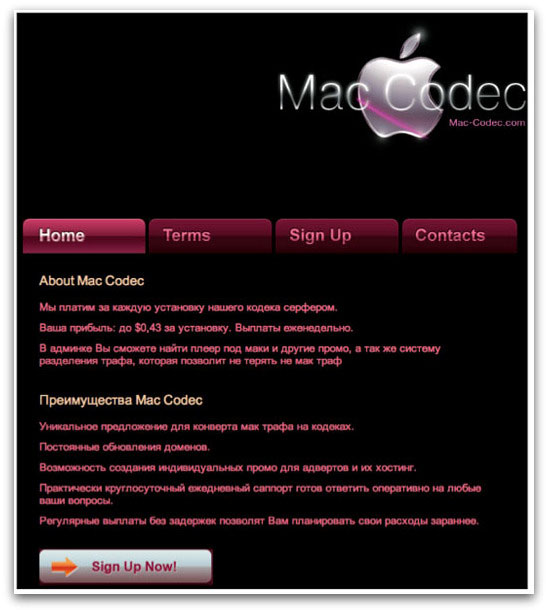 For instance, the website pictured above (which is no longer online – at least not currently) was recently offering $0.43 to its affiliates every time they managed to successfully install malware on users' Apple Mac computers. And to help their affiliates in this scheme, they offer dangerous malware posing as fake video players.
The growing evidence of financially-motivated criminals looking at Apple Macs as well as Windows as a market for their activities, is not good news. Especially as so many Mac users currently have no anti-malware protection in place at all.