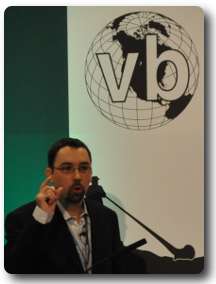 I'm currently at the Virus Bulletin Conference in Geneva.
I've just come from a talk given by my friend and colleague Dmitry Samosseiko from Sophos Canada, who presented a paper entitled The Partnerka — what is it, and why should you care?
This paper was definitely the highlight of the event for me so far, providing a fascinating and well-researched insight into the ever-booming spam industry in Russia and beyond.
The partnerka (pronounced 'partnyorka') are hundreds of well-organised affiliate networks, with thousands of affiliated 'webmasters', who make millions of dollars of profits per year through the on-line sale of fake watches, fake anti-virus, fake pills, fake love, and much more besides.

Dmitry took us behind the scenes of some of these affiliate networks, revealed insider statistics and information, including how much money top-performing webmasters are making each day, showed some of the tools used in the fascinatingly dodgy world of affiliate SEO (search engine optimisation), and explained the terminology and techniques of the partnerka.
Finishing optimistically, Dmitry encouraged fellow security researchers to to work ever more closely with law enforcement and ISPs to orchestrate rogue network takedowns, and to keep up the abuse reports to billing and hosting companies.
Why not download Dmitry's paper and read it yourself?
Then ask yourself what you can do to keep up the pressure on the partnerka and thus to reduce their overall impact on the safety and usefulness of the internet.
(Thanks to Helen Martin, editor of Virus Bulletin, for permission to extract and publish Dmitry's paper from the Proceedings of the 19th Virus Bulletin International Conference. You can order complete Conference Proceedings by contacting VB directly.)