Peruvian soccer fans have reacted to their national team's dramatic defeat at the hands of Argentina last Saturday by hacking Diego Maradona's website and calling him a "cry-baby".
Maradona, the talented footballer who knocked England out of the 1986 FIFA World Cup with the infamous "Hand of God" incident (yes, this incident does still hurt every living Englishman..), is currently the Argentinian football team's coach and has been under immense pressure to secure his country's place in the 2010 World Cup in South Africa.
A Peruvian hacker, going by the handle of "Elite-Peruvian" has taken his fight off the pitch and into cyberspace, by defacing Maradona's personal website: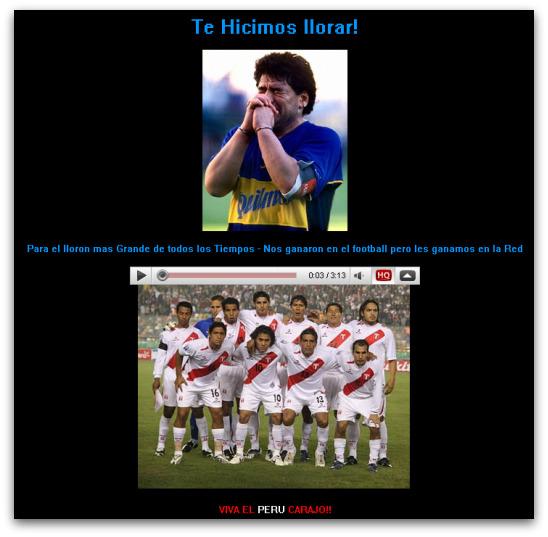 A picture of a weeping Maradona is accompanied by the message: "We made you cry."
The Peruvian national team is also pictured, with a message proclaiming: "For the biggest cry baby of all time – you beat us at football, but we beat you on the web."
The message for Maradona is clear. Don't leave your web security to the Hand of God – secure your systems and follow best practices instead to keep hackers locked out.