Users of the Sidekick mobile phone are being warned that personal data which they believed to be safe online in "the cloud" may be lost forever following what appears to be a disastrous server failure.
T-Mobile in the USA has suspended sales of the Sidekick cellphone, as Microsoft – who runs the Sidekick data service – scramble to see if it's possible to recover the contact lists, calendar items, photos and other personal information of thousands of phone customers.
In the meantime, the best advice the companies can offer worried Sidekick users is to not turn off their phones or let their batteries drain. Ominously, it sounds as if the chances of all lost data being recovered are remote.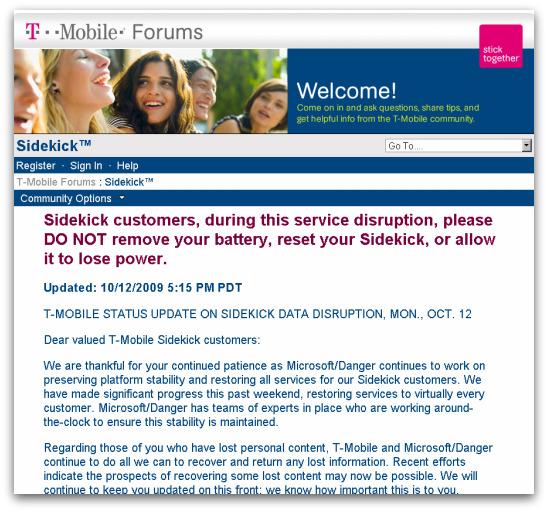 Any company – even Microsoft – can have a server problem, but there should always be reliable backup systems in place should a disaster happen.
According to a report from Reuters, Microsoft says
"Microsoft says the recovery process has been 'incredibly complex' because it suffered a confluence of errors from a server failure that hurt its main and backup databases supporting Sidekick users."
A 'confluence of events'? It sounds to me like Microsoft's cloud may just have turned into a perfect storm.
Many technology companies are promoting online services and "cloud computing" as the next big thing, but incidents like this will inevitably shake users' and businesses' confidence. If a company with the resources of Microsoft can foul up so badly – can other firms be trusted to keep individual and corporate data safe and sound?
Just look at some of the awful headlines that T-Mobile/Microsoft have been receiving..