Hoaxes are causing a nuisance again, as a false AMBER Alert asking the public to be on the lookout for a 3-year-old boy abducted by a man driving a 2006 Mitsubishi Eclipse are circulating around the world.
And the internet is just helping the false warnings to spread faster and further.
The bogus alerts are widespread on social networking sites such as Facebook, as users unwittingly perpetuate the hoax – believing they are helping to spread a genuine warning.
Every few seconds there are dozens more warnings appearing on Twitter, for instance: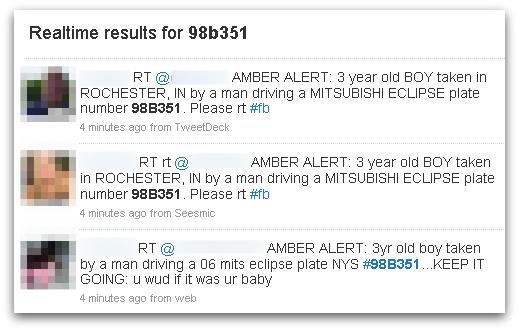 The messages, asking recipients to look out for a car with the license number 98B351, are also being spread by text messages – and is showing no sign of abating.
However, at the time of writing, the National Center for Missing & Exploited Children website is listing no active Amber Alerts, and it has been confirmed that the warning is fake.
The truth is that it's all too easy for people to forward warnings to all of their friends and colleagues – thinking that they are doing good – but actually wasting everyone's time and bandwidth. A few minutes spent Googling would reveal that the warning about the 2006 Mitsubishi Eclipse with the license number 98B351 is false.
The AMBER Alert Program is a voluntary partnership between US law-enforcement agencies, broadcasters, transportation agencies, and the wireless industry, to activate an urgent bulletin in the most serious child-abduction cases. The goal of the AMBER (America's Missing: Broadcast Emergency Response) Alert system is to instantly galvanise the entire community to assist in the search for and the safe recovery of the child.
Social networks and mobile phones may be a great way to stay in touch with hundreds of friends and acquaintances, but sadly they're also a way of unwittingly spreading erroneous information very quickly too. It would be a shame if genuine alerts about missing children were lost in the noise caused by fake warnings like this.