Earlier this week I blogged about the catastrophic story of how Sidekick customers were facing the loss of their personal data, as it appeared that Microsoft's backup systems had failed to come to the rescue after an outage on their servers.
It now appears that all data stored on the T-Mobile Sidekick's online service (personal data such as contacts, photos, calendar appointments) will be restored.
A public statement from Roz Ho of Microsoft explains that "the outage was caused by a system failure that created data loss in the core database and the back-up" and apologises for the inconvenience caused to Sidekick users who were warned not to allow their cellphones to power-down during the outage.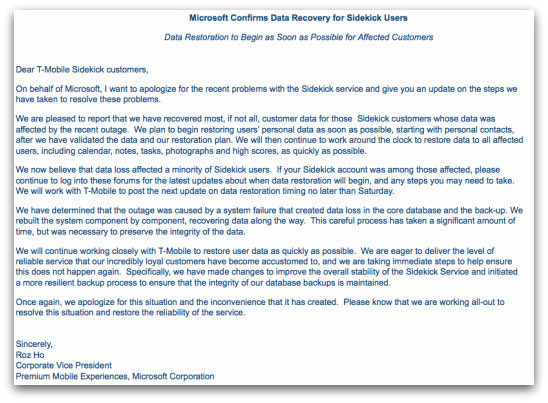 So, a close escape.. but remember, if you have important data think very carefully about how you would recover if your own copy were sitting "in the cloud".
This may not be the last we hear of the story, by the way. Some inconvenienced Sidekick users are reportedly taking legal action against T-Mobile, and it remains to be seen how T-Mobile might feel about the quality of service it received from Microsoft who were running the "cloud" servers for the service..