We are currently seeing a large number of malicious emails purporting to be sent from FedEx or DHL, but containing attachments designed to infect your computer.
It's a familiar story. In the case of the malware attached to the emails coming from DHL, the communication claims that there has been an error in the delivery address, and so you are invited to pick up the parcel "at our post office personaly" (spelling has often been the downfall for would-be hackers).
If the poor spelling doesn't set your alarm bells ringing then you might be foolish enough to open the attached shipping label (we have seen examples where this can be called DHL_print_label_75ba9.zip or DHL_print_label_9731b.zip)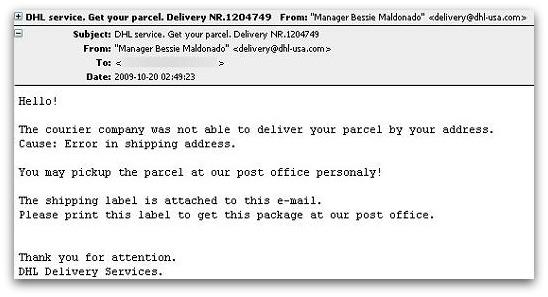 Sophos detects the attached malware as Troj/BredoZp-A or Mal/Bredo-A.
On the SophosLabs blog, Prashant has written about a similar campaign claiming to come from FedEx, carrying an infected invoice in the form of a file called TR768212.zip.
The thing which is most notable about these current spammed-out attacks, though, are their ferocity. Take a look at what our email malware traps intercepted in a less than two minute interval: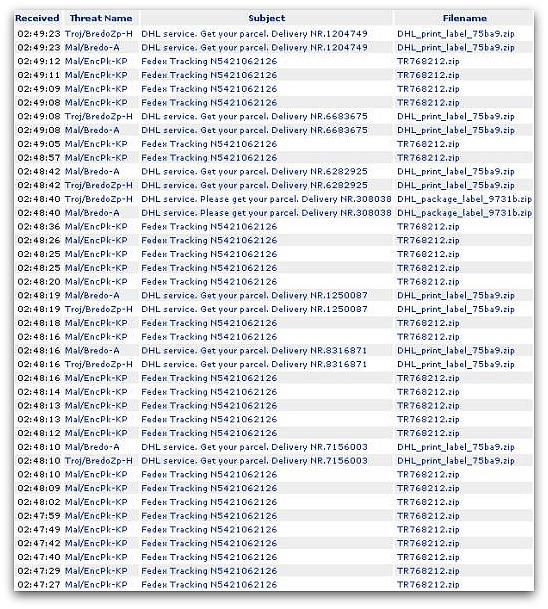 Dangerous emails claiming to come from courier companies are nothing new – it has become a standard method by which hackers can socially engineer you into opening a malicious attachment or clicking on a dangerous link.
Make sure that you and your colleagues are wise to the trick – and think before you click.