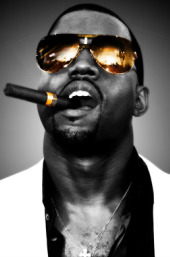 Kanye West, known around the world for making a "jackass" of himself (at least according to President Obama) by interrupting an award acceptance speech by Taylor Swift, is the subject of an an internet hoax that is being spread rapidly across the internet.
The bogus reports, that are being forwarded between email users and across social networks such as Facebook and Twitter, claim that the award-winning rapper has died in a car crash in Los Angeles:
A bizarre car crash in Los Angeles involving two luxury cars early this morning rapper Kanye West dead, a second injured, a third arrested for gross vehicular manslaughter and a fourth person was detained by police.

A Los Angeles Police Department officer who witnessed the wreck and saw a red Ferrari and a white Porsche "spinning out of control" on Jamboree Road between Bison Avenue and East Bluff Drive ., Los Angeles Lt. Scott Fox said. The Ferrari "hit the curb and then collided with a pole." The Porsche came to a stop at the scene for a few seconds and then sped away, Fox said.

"It was terrible. It was extensive damage to the vehicle," Fox said, adding that the Ferrari appeared to have split in half.

A woman in the Ferrari was ejected during the accident and taken to a hospital, where she was in stable condition, Fox said. He said police have not determined which one was driving and which one was the passenger.

Police located the Porsche on Bison Avenue just west of Jamboree Road shortly afterward and saw a man and a woman walking away from the car.

"The vehicle had moderate damage and appeared to be consistent with the car involved in the accident on Jamboree," Fox said. "They determined that the male had been driving the Porsche, and he was arrested" for gross vehicular manslaughter while intoxicated, he said.

The speed limit on that stretch of road is 50 mph."
Unfortunately, many internet users are forwarding or reposting the "news", without checking a credible news website. After all, if it were true, wouldn't it be on the front page of CNN?
So, it would seem reasonable to search the internet to find out if the rumours of Kanye West's death were true or not before forwarding the messages, wouldn't it?
Unfortunately, as Rik Ferguson has also noted, hackers are taking advantage of the story – as it has become one of the hottest terms to search for on the internet.

Using search engine optimisation (SEO) techniques, hackers have managed to push malicious webpages claiming to be about Kanye West's "death" high on the results of internet search engines.
Clicking on the link will take you to a webpage that tries to infect you with fake anti-virus (also known as scareware).
In light of the rising number of attacks of this nature, computer users would be sensible to exercise extreme caution. Furthermore, ensure that security software is scanning every webpage they visit for malicious code.
Indeed, maybe it would be more sensible to go established news websites for information about breaking stories rather than trusting any Tom, Dick and Harry on the net?

Carole Theriault and I recorded a short podcast about how hackers were using the Kanye West hoax alongside SEO techniques to infect users with scareware:
By the way, this is far from the first time that inaccurate rumours of a celebrity's death have spread via the internet.
For instance, in July a hoax news report was shared across the net claiming that Harry Potter actress Emma Watson had died in a car crash, and both Jeff Goldblum and Tom Cruise are said to have fallen off the same cliff on separate occasions while filming!