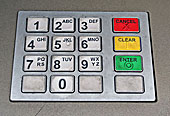 An Australian computer enthusiast who stole 30,000 Australian dollars (approximately US $28,000) from cash machines, using information he found on the internet to hack into ATMs, has escaped a two year jail sentence.
According to media reports, Brian Sommer appeared in Bundaberg District Court this week, charged with hacking into the hard disks of cash machines to change their settings.
23-year-old Sommer, who worked in a central Queensland pizza parlour, hacked into two Hervey Bay cash-in-the-wall machines, stealing the money over a seven month period in 2007, using information he gleaned from an ATM repairman's manual.
The computer buff used debit cards borrowed from his girlfriend, mother and two friends, as well as his own, to extract the cash. Sommer's two friends, Roderic Cabanilla Read and Christopher Scott Lockyer, were charged separately in December 2007 and received a sentence of six months probation.
Prosecutors in the case pushed for Sommer to be given a two year prison sentence – arguing that his ring-leading role in the theft and the fact that it had continued for seven months made his offence more serious.
However, Judge Anthony Rafter of Bundaberg District Court looked kindly on Sommer, sentencing him to two years' probation, 100 hours of community service and ordering him to pay back AU $23,160.
The young pizza shop worker is lucky to have escaped with his liberty. Just because you stumble across a way to steal money doesn't make it right. Other young people curious about security vulnerabilities in banking systems would be wise to report them responsibly to the banks themselves, rather than play the dangerous game of exploiting them to make a quick buck.