There's no information as to what the problem might be (and there's no mention on the Twitter status webpage which is designed to inform users of problems), but the micro-blogging site Twitter is currently down.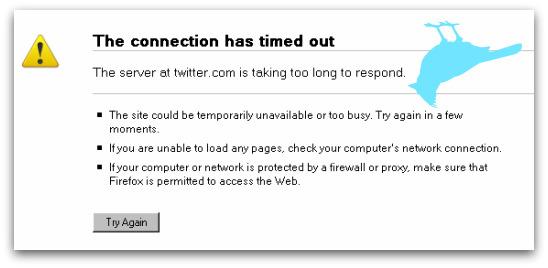 In August, Twitter suffered a distributed denial-of-service (DDoS) attack after hackers took exception to the postings of an anti-Russian blogger called Cyxymu. Facebook and LiveJournal were amongst the other websites to suffer during the attempt to silence the blogger based in Tblisi, Georgia.
Twitter's downtime on this occasion may be for a more down-to-earth reason than a botnet-powered DDoS attack, but there will still be many eyes watching how quickly the service can get itself up-and-running again – especially in the week when both Microsoft Bing and Google announced they would be incorporating tweets into their search results.
Update: Hmm! As of 12:30pm UK time, it seems to be back! Maybe the problem was isolated.
I did try downforeveryoneorjustme.com and asked a colleague in the USA to try too with similar results. Hey ho.. 🙂