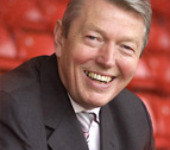 British Home Secretary Alan Johnson has confirmed the House of Commons that he has "stopped the clock" on the extradition of Gary McKinnon to the United States.
Answering a question yesterday from Conservative MP David Burrowes, who counts McKinnon amongst his constituents, the Home Secretary said:
"we have stopped the clock ticking in regard to the representation to the European Court because new medical evidence has been provided."

(Source: www.parliament.uk)
McKinnon, who suffers from Asperger's Syndrome, was arrested seven years ago after breaking into computers belonging to the US Army, US Navy, US Air Force, Department of Defense and NASA.
The 43-year-old hacker claims that he accessed the computer systems only to hunt for top secret information about anti-gravity propulsion systems and alien technology, which he believed the authorities were hiding from the public.
Earlier this month McKinnon was told that he would not be allowed to take his appeal against extradition to the UK Supreme Court, because his case is not of "general public importance".
The news that the British government is now looking more closely into McKinnon's case will be greeted positively by his many supporters – who number members of all the major British political parties, celebrities and 71% of IT professionals we polled earlier this year.