Senior security analyst Carole Theriault shows its not all hard work at Sophos, as she tells us how staff raised some money for the fight against breast cancer. Oh, and she shares some pretty good cake recipes too. Over to you Carole…
Sophos today held a Pink Friday bake-off at its headquarters in Oxfordshire to support the fight against breast cancer.
Chief organiser and Sophos employee Amanda Culver pulled together a team to bake treats and decorate the restaurant with pink ribbons and balloons.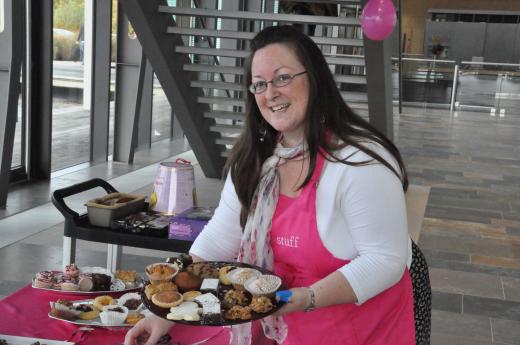 The baked goods were sold around the building with all proceeds going to fight breast cancer. About 50 different cakes, cookies, pastries and muffins were home-baked and brought in this morning.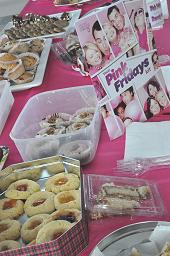 A few of our bakers were happy to share their recipes – Eat your heart out Nigella!
* Saumya R mase a fantastic Praline and buttercream covered yellow cake.
* Organiser Amanda provided butternut squash muffins.
* And here's the recipe for Ines R's Chocolate and Spice cake:
Preheat oven to 160 C, grease and flour a loaf tin, and have all ingredients at room temperature.

200g butter unsalted
200g caster sugar

5 eggs, separated

200g plain flour
Pinch of salt
½ tsp baking powder
2 tsp ground cinnamon
½ tsp ground cloves

125 ml single cream
100g dark chocolate, chopped into small chunks
200g finely chopped almonds (use raw ones with skin)

Beat butter and sugar until fluffy and light yellow in colour.
In a separate bowl, sift together the flour, salt, baking powder, cinnamon and cloves and set aside.

To the butter and sugar mixture, stir in the following: egg yolks, cream, the flour mixture, chocolate and almonds. Beat the egg whites and fold them in.

Pour into loaf pan and bake for about 50 mins.
I attempted to make Stephanie Jaworksi's gingerbread cake, a gorgeous recipe that I nearly ruined by forgetting in the oven.
You too can host an event. Visit www.pinkfridays.org.uk and www.wearitpink.co.uk for ideas.