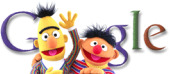 Google has announced a new product: Google Dashboard.
The search engine giant – who today changed its logo to celebrate the 40th birthday of "Sesame Street" – is attempting to respond to the concerns of some internet users that Google is gathering too much data about individuals through its various cloud services.
The thing is that you may have shared information with a Google service in the past, only to have forgotten about it in the mists of time. Dashboard makes it easy to recall all those Google services you may have signed-up for in the past (for instance, if you chose not to upload all your holiday snaps to Picasa or realised that you didn't want your friends to be able to see where you were 24 hours a day via Latitude after all) and may now wish to consign properly to the dustbin.
Hang on, let me rephrase that. Dashboard makes it easy to recall nearly all those Google services. Some, such as Google Wave, Google Groups, and Google Checkout, aren't currently incorporated fully into the Dashboard yet, but at least they are linked to from the bottom of the Dashboard page. Google says it plans in the future to integrate all Google services into the Dashboard.
There's nothing new about what you can do with Google Dashboard – you always were able to manage your various Google assets by logging in to the individual product pages – but it does provide an easy one-stop-shop with a handy list of links to your different account management pages.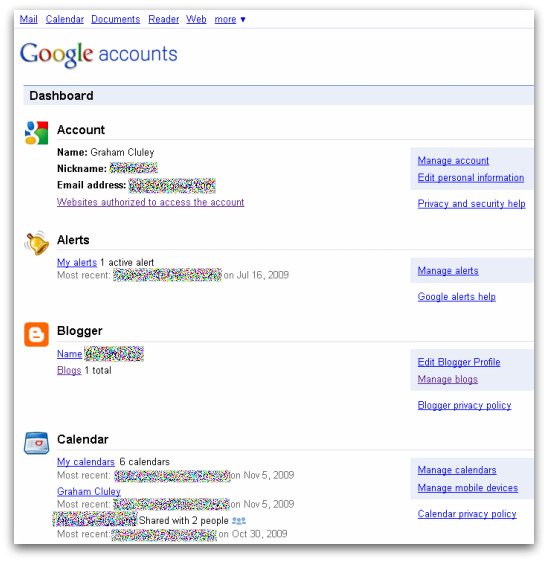 So, congratulations to Google on being more transparent and making it easier for individuals to manage the personal data that the company stores about them.
But it's worth remembering that this openness could come at some cost. For instance, putting this info all in one place could make it easier for a cybercriminal to learn more about you more quickly, should they manage to discover your Google password.
On similar lines, journalist Ian Paul has written about how he could tell his browser to remember his account password for future visits to Google Dashboard, leaving a worrying door open should his computer be hacked or stolen.