Are you trying to find the source code for the ikee iPhone worm?
It seems a fair few people are, at least judging by the statistics I've seen for my blog today.
The raw statistics are apparently a closely guarded commercial secret (probably to be filed in a locked cabinet stuck in a disused lavatory with a sign on the door saying "Beware of The Leopard"), but I am allowed to share with you the top keywords that folks around the world have used when stumbling upon my blog today: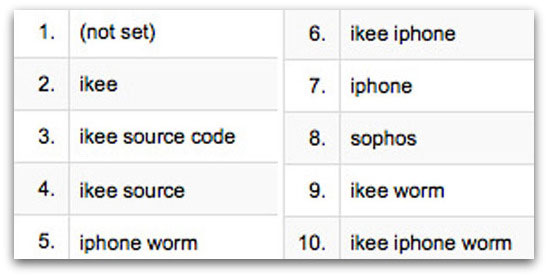 You'll notice it's not "Rick Astley" or "Rickrolling" that people are searching for. Instead a hot search term which is bringing people to my website is "ikee source code".
And that worries me. After all, who has an interest in the ikee worm's source code? None other than hackers who might want to create more variants of the worm, perhaps with more malicious intentions than displaying a picture of a pop star from the 1980s.