Yesterday Apple issued a fix for 58 vulnerabilities in its Mac OS X operating system, many of which could lead to hackers running malicious code and hijacking your Apple Mac.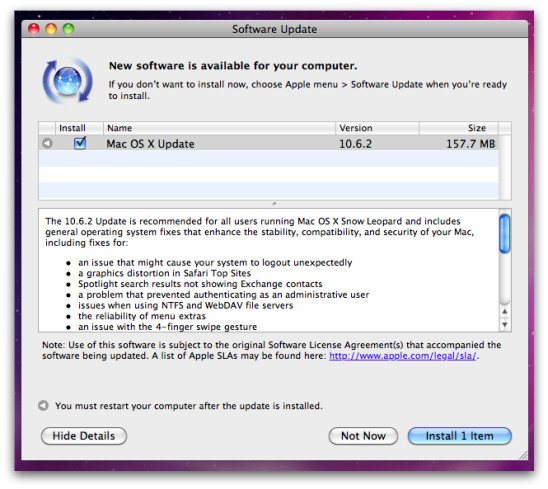 The update to version 10.6.2 of Mac OS X Snow Leopard also includes a number of "stability and compatibility" update for users, including a fix for a bug that permanently deleted user data while using guest accounts.
More information about the products affected by the Apple security vulnerabilities can be found on Apple's website.
Security Update 2009-006 has also been released for users of Mac OS X 10.5.8 who have not yet upgraded to Snow Leopard.
It can't be emphasised strongly enough the importance of keeping your computer patched. Even though there are many more attacks against Windows users than Mac OS X users, that does not mean that Apple fans are completely ignored by the hacking and cybercriminal community. It is extremely critical that all computer users take their computer security seriously, or risk having their systems and data breached.
Of course you would be wise, before rolling out patches like this to a large number of computers, to test it out on a select number first – just in case there are any incompatibility issues.
Mac users can update their computers via the regular Software Update process, or download a patch directly from Apple Downloads.
It must be a busy time for system administrators in charge of multiple operating systems throughout their companies – later today Microsoft is due to release a number of important security patches for its Windows and Office products as part of its regular "Patch Tuesday" schedule.