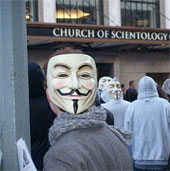 A 19-year-old man has been sentenced to a year and a day in prison after instigating a distributed denial-of-service attack (DDoS) against websites belonging to the highly controversial Scientology organisation.
Dmitriy Guzner, of Verona, New Jersey, played a key role in an attack in January 2008 which crippled Scientology websites by flooding them with internet traffic, making them inaccessible to the outside world.
Guzner, a student at Quinnipiac University, admitted his involvement in the attack a year ago, but has denied being a member of the Anonymous group which believes Scientology to be a dangerous cult, and who have staged protests around the world wearing distinctive Guy Fawkes masks.
Judge Joseph Greenaway sentenced Guzner to a year and one day in prison, followed by two years of probation. In addition, Guzner has been ordered to pay $37,500 to the Scientology organisation (a lot less than the $119,500 that it was said Scientology paid to mitigate the attacks).
On October 28th, a Los Angeles federal grand jury indicted 20-year-old Brian Thomas Mettenbrink, for his alleged part in the same denial-of-service attack.
It's well known that many people are concerned by the Scientology movement (for instance, it was convicted of fraud in France last month), but both Scientologists and the Anti-Scientology movement have sometimes done themselves damage by the way they have carried themselves on the internet.
As I've said before, though, Even if you feel passionately and earnestly that Scientology is harmful to society, it does not make illegal action (such as an internet attack) against them acceptable.