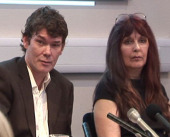 According to media reports, British Home Secretary Alan Johnson has rejected a last-bid attempt by Gary McKinnon's supporters to prevent his extradition to the United States.
Concerns have been raised that 43-year-old McKinnon, who was arrested almost eight years ago after allegedly hacking into computers belonging to the US Army, US Navy, US Air Force, Department of Defense and NASA, and has been diagnosed with Asperger's syndrome, might take his own life if jailed in the United States.
The North London computer enthusiast's troubles started when he broke into the computer systems only in order, he claims, to hunt for top secret information about anti-gravity propulsion systems and alien technology, which he believed the authorities were hiding from the public.
US authorities, meanwhile, alleged that McKinnon – known by the handle 'Solo' – caused nearly a million dollars worth of damage, shutting down systems responsible for the tracking the location of naval ships, and protecting Washington DC.
McKinnon's many supporters were hopeful that the Home Office might intervene in the extradition, after they announced last month that they would take a fresh look at medical evidence.
However, newspapers are reporting that a letter from the British Home Secretary snuffs out any hope McKinnon might have of a trial in Britain instead:
The secretary of state is of the firm view that McKinnon's extradition would not be incompatible with his [human] rights", said the letter, dated 26 November. "His extradition to the United States must proceed forthwith".
This development is unlikely to be welcomed by McKinnon's many vocal supporters, who include members of all the major British political parties, celebrities and 71% of IT professionals we polled earlier this year.
Don't forget – this poll was of 550 people who are normally tasked with fighting hackers.
It's clear that many IT workers have a lot of sympathy for McKinnon's plight and would rather see him tried in Britain rather than America.
The feeling seems to be that it's peculiar to make an example of a UFO conspiracy theorist when more serious crimes are being regularly carried out by financially-motivated hackers, stealing identities, sending spam and creating botnets.
However, unless McKinnon's supporters can pull a cat out of the bag, he could be on a plane heading for the USA by Christmas.