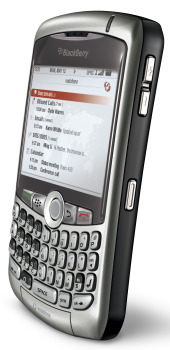 Research in Motion (RIM) has warned of vulnerabilities in the way the BlackBerry Attachment Service handles Adobe Acrobat PDF files, which could allow hackers to break into corporate networks.
According to a security advisory issued by the firm, hackers could send email message with an attached PDF file that, when opened by a BlackBerry mobile user, could cause code to be launched on the enterprise server that hosts the BlackBerry Attachment Service.
That code could cause your systems to crash – perhaps interrupting communications – or potentially allow hackers to run malicious code on your network.
RIM has advised customers who wish to protect themselves from the possibility of attack while they are waiting to roll-out the patch to remove PDF files from the list of allowed extensions as a stop-gap measure. Of course, PDFs are widely used in business, so I can't imagine that many firms will find that an acceptable solution for very long.
A number of different flavours of the BlackBerry enterprise software are said to be affected by the flaw, which RIM rates as 9.3 out of 10 in terms of severity.
If you use BlackBerry smartphones in your business then I suggest you investigate the security advisory on the BlackBerry website now.