Sometimes phishing scams are so brazen or pathetic, the only thing you can do is laugh.
After all, if you believed people really fell for emails like the following you would probably cry. This particular email, which asks you to reply instantly with your username and password (and, interestingly, whether you use Outlook Express or not), claims to come from the Yahoo Webmaster Team: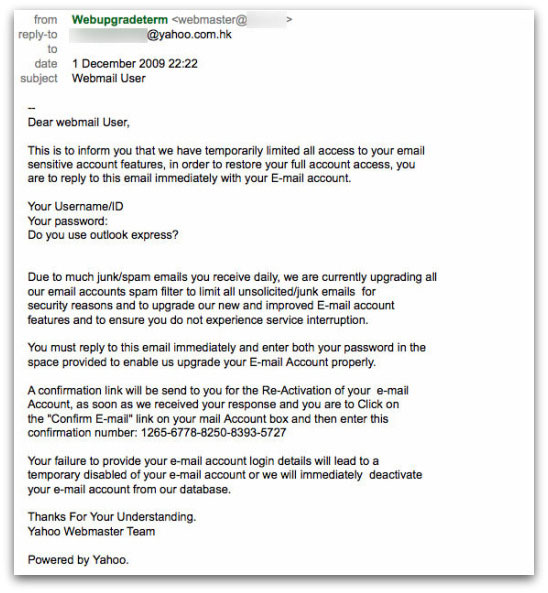 Clearly you would have to make a number of errors to fall for this particular scam:
1. You would have to not question why the Yahoo Webmaster Team is emailing you (and what might their power be over your email account), especially as it wasn't sent to a Yahoo email address.

2. You would have to overlook that the bad guys didn't even bother to forge the message to look as though it came from a Yahoo domain.

3. You would have to not be curious as to why your account was suspended – the email doesn't explain what the possible reason might be.

4. You would need to overlook that the email can't decide if it's spelt "email", "E-mail" or "e-mail".

5. You would need to turn a blind eye to the pidgin English used throughout the message.

6. You would need to believe that it's perfectly okay to put your username and password in an email.
Just imagine – if more of the cybercriminals were more professional, how much more damage they could do.
My guess is that this campaign will have largely failed at the first hurdle, and only the most vulnerable members of society might have been tempted to cough up their details.