I'm visiting our Boston office at the moment, so missing out on all the fun back in the UK – where the country is under an unusually heavy blanket of snow. Up to 40cm (15.8in) of snow has fallen overnight in parts of Oxfordshire, where Sophos's UK headquarters is based.
Sophos staffers Letu and Ajay have been busy this morning, and are proud to announce a brand new Sophos product, which has been put on display outside our Abingdon office: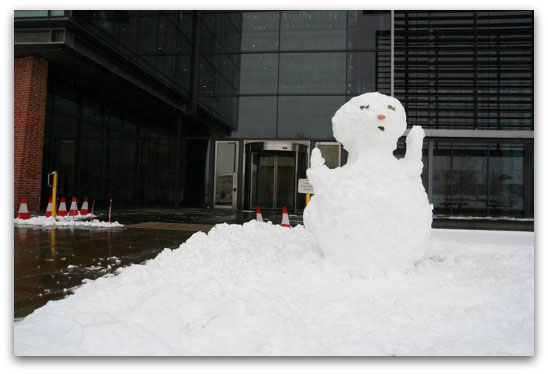 Tim Coggins who sits over in our IT team also took some great pictures of Sophos in the snow, some of which I've posted up on Flickr:
http://www.flickr.com/apps/slideshow/show.swf?v=71649
We're very lucky to work in such a beautiful building, and the snow makes it look even more magical. You can even see that part of our moat has frozen up too. Hopefully the snow won't have melted by the time I get back.
Ahh well, maybe I'll just have to content myself with the video of the snowball fight we had last year:
(Enjoy this video? You can check out more on the SophosLabs YouTube channel and subscribe if you like)