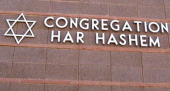 In the first week of January, two synagogues in Boulder, Colorado, found that their websites had been defaced by a hacker who posted anti-Semitic messages.
The websites of Bonai Shalom and Har HaShem were breached on January 2nd with messages such as:
Jews are terrorists. Child Organ Smugglers
and
Jews are terrorists Organization
Subsequently, the Boulder Rabbinic Council's website was also defaced with similar messages claiming to come from a hacker calling themselves "Waja (Adi Noor)".
If you sprayed a swastika on the wall of a synagogue you wouldn't be surprised if you got sent to prison, so it's a little disappointing to hear that although the law enforcement authorities say they believe that they have identified the hacker, they do not plan to take any further action.
According to a statement issued by the FBI, the hacker is believed to be overseas, and is thought "not to pose a threat to the Boulder community".
It's certainly odd, though, if the hacker is based abroad that the congregations in their cross-hairs are all based in the Boulder region. I wonder if he or she has some other connection to the area?
Regardless of the ins-and-outs of this case, I hope that 2010 will see people taking all kinds of cybercrime more seriously. Whether a hack is motivated by hate, the desire to spread malware, or identity theft, it shouldn't be tolerated – and a strong message needs to be sent out by the authorities that cybercrimes will be investigated and the perpetrators brought to justice.