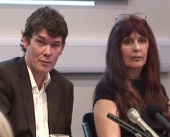 British hacker Gary McKinnon, who broke into United States military systems in his hunt for evidence of UFOs and extraterrestial technology, has received what may turn out to be a last minute reprieve from being extradited to the USA.
Late last year McKinnon's campaign to escape extradition looked like it had run out of options when British Home Secretary Alan Johnson, ignored psychiatric advice on McKinnon's "very poor mental state" and rejected a plea from supporters of the 43-year-old hacker to intervene in the case.
A High Court Judge has green-lighted a judicial review which will rule on whether the Home Secretary was wrong to consider that a US trial would not breach McKinnon's human rights, and to allow the
extradition of the hacker.
McKinnon's mother Janis Sharp, announced the development on her Twitter page:

Legal red tape and arguments may now mean that a final decision is pushed back to the summer, by which time it is possible that the UK will have a new (and more sympathetic) government in office.
In 2009, a Sophos poll of 550 IT professionals found that 71% believed that McKinnon should not be extradited to the USA:
I've never seen such support for a hacker from those tasked with protecting computers from hackers.