I dislike salesmen. The look on their faces irks me when I can feel the dollars flicking in their eyes. I hate it when my car insurance company ask if i want to get home insurance as well. I do not like it when my credit card company tries to sell me a great new insurance product. In general, I hate to be a victim of cross selling.
Malware authors are just like salesmen. They cross-sell as well. A fake AV tried to do the same to me. Besides offering great AV protection, it wants me to get some useful codecs so that I can watch all my legit DVDrips. Thus, someone decided that in order to get me to install their codecs, he/she will have to terminate all processes related to media players.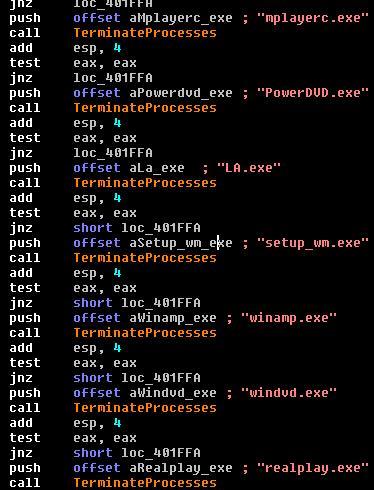 In addition to the above, the malware also terminates different kinds of common applications because I need to update my AntiVirus to get them to work.

Eventually, I ended up with a useless machine that will not play my movies nor launch common applications. Cross selling is bad for computer users! Using Whois, I have confirmed that one russian salesman named 'Alexey', has been behind all these. Sophos has put an end to his nonsense by blocking his websites and detecting his crap malware as Mal/FakeAV-BT.