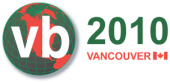 Those awfully nice people at Virus Bulletin magazine are asking for people to submit papers for the VB2010 conference they will be holding later this year.
The conference leapfrogs around the world from city to city, and this time it will be held in Vancouver from 29th September – 1st October. VB2010 will be their 20th conference (the first one I managed to attend was VB94 in Jersey) so it's bound to be quite a party.
One thing that's worth remembering is that you don't have to be a expert in malware or spam analysis to submit a paper, as they welcome submissions for both the technical and the corporate stream.
Indeed, in my experience, the papers presented by "civillians" whose day-to-day job is protecting a business from attack or educating reluctant workers about the importance of computer security are often the most interesting. In the past, presentations by members of law enforcement agencies have also been fascinating.
You can find out much more, including details of possible topics, on the "Call for papers" section of Virus Bulletin's website, as well as an online submission form for abstracts.
You only have until March 5th to submit your abstract, so: don't delay, good luck, and I look forward to seeing you at the conference!