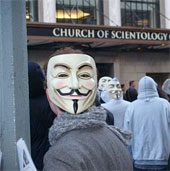 A second man has admitted his role in a distributed denial-of-service attack (DDoS) against websites belonging to the highly controversial Scientology organisation that struck the sites in January 2008.
According to media reports, 20-year-old Brian Thomas Mettenbrink of Nebraska has signed a plea agreement confirming that he downloaded software from an anti-Scientology web forum with the intention of inflicting damage on Scientology's online presence.
The attack crippled Scientology websites by flooding them with internet traffic, making them inaccessible to the outside world.
Mettenbrink's plea agreement with prosecutors proposes that a 12 month jail term would be appropriate, but the final decision will be made by a judge.
Last November, Dmitriy Guzner, of Verona, New Jersey, was sentenced to a year and a day in jail after pleading guilty to his part in the same attacks.
It's well known that many people are concerned by the Scientology movement (for instance, the Australian Senate heard accusations of torture and embezzlement late last year), but both Scientologists and the anti-Scientology movement have done harm to their arguments through their online behaviour in the past.
So, despite the passionate and earnest beliefs of some that Scientology is harmful to society, it can never be acceptable to launch a denial-of-service attack. There's enough crime on the internet as it is, without internet vigilantes joining in the mix.