Top technology blog TechCrunch has been hacked for the second time in 24 hours, with visitors being greeted by an offensive message directed at site founder Michael Arrington.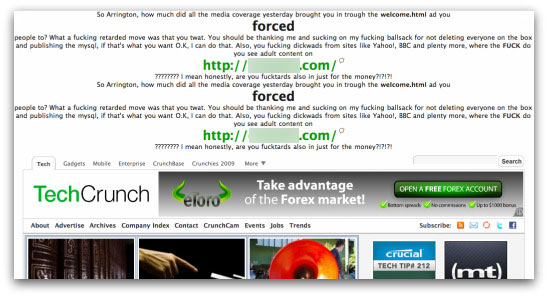 Part of the message posted by the hacker reads:
So Arrington, how much did all the media coverage yesterday brought you in trough the welcome.html ad you

forced

people to? What a f***ing retarded move was that you t***. You should be thanking me and sucking on my f***ing b***sack for not deleting everyone on the box and publishing the mysql, if that's what you want O.K, I can do that.
Hmm.. someone needs to learn some manners don't they? Even if they don't like being forced to go through an interstitial ad page before reading TechCrunch's content, this is hardly an appropriate way to vent your fury, is it?
The message also once again directs web surfers to a website hosting links to hardcore file-sharing torrents. Curiously, seems to have become incensed that the site he links to has been described as containing links to "adult content":
Also, you f***ing d**kwads from sites like Yahoo!, BBC and plenty more, where the F**K do you see adult content on

http://******.com/

???????? I mean honestly, are you f***tards also in just for the money?!?!?!
But I don't know how else to describe links to files such as
XXX/Nubiles-net-10-01-27-Haylee-Heart-Set-5-D**do-M***urbation-XXX-IMAGESET-FuGLi/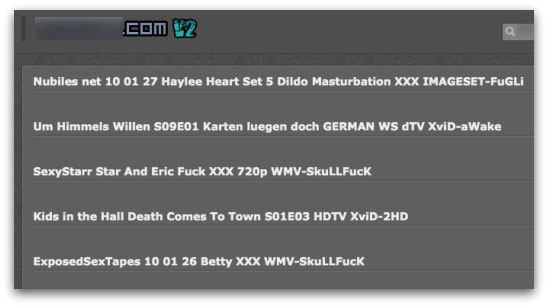 To misquote Oscar Wilde for a moment, to be hacked once may be regarded as a misfortune; to to be hacked twice looks like carelessness.
At the time of writing, the site has been restored to normal operation – but you can't help but conclude that someone has a personal vendetta against the site.
Which will keep TechCrunch on its toes in the coming hours, especially as the uber-hot story of the imminent new Apple tablet computer is scheduled to be announced to the world by Steve Jobs later today. And that's the kind of news that normally would generate a lot of traffic to TechCrunch's website.
It remains to be seen if TechCrunch's Michael Arrington is as glib about today's hack as the one yesterday, where he joked on Twitter that the Chinese or Canadians might be responsible: