Like many other people I'm on Twitter. Unlike most of the other websites which fall under the social networking umbrella, I've found it an essential part of my professional life – helping me share information about breaking internet threats and follow other interesting people from the computer security industry.
I post tweets most days about something interesting I've discovered that I believe would be interesting on the computer security side of things, and as a result a couple of hundred people have created Twitter lists that follow me and other like-minded folk.
Up until now I haven't paid much attention to the lists that are following me, but one list in particular caught my eye:
As you can see, the @usafhamortgage/http-usafhamortgage-com Twitter list is following me and some 154 other people. If the name of the list itself doesnt' give the game away that this isn't a collection of Twitter users related to computer security then the description should:
Help with those High Credit Card bills after Christmas http://usafhamortgage.com/Home_Page.php
Clearly they're keen for us to visit their website: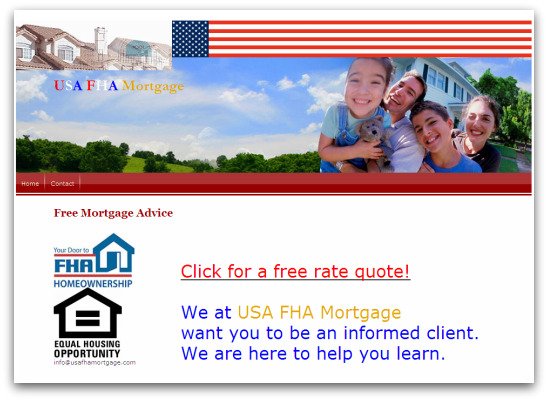 And it seems that @usafhamortgage has created some other lists too, although they haven't yet added anyone to those lists: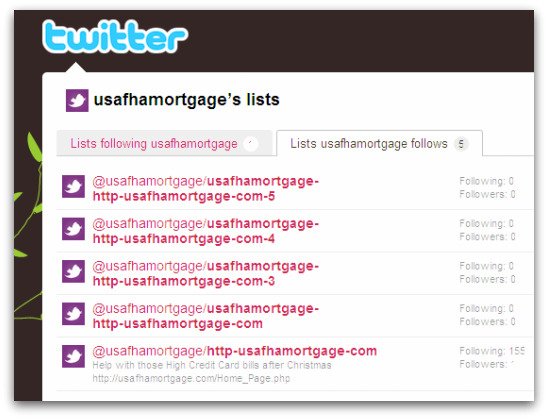 Are Twitter lists likely to be the most successful method of spamming out an advert for a website? I don't think so. But you can imagine how a list created by a spammer called "Sexiest people on Twitter" might be tempting for others to look at, and perhaps check out any links that the list owner was pointing to.
One way of stopping spammers from adding you to their Twitter lists would be if Twitter asked your permission whenever someone wanted to add you to their list. That would also stop defamatory lists from popping up (imagine "People with fattest bottoms on Twitter", or worse..). But they don't seem to have implemented that kind of control.
In the meantime, I'm left with reactively blocking @usafhamortgage, which should also prevent me from showing up in any of their lists in future.