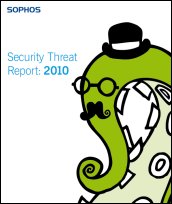 SophosLabs today published its latest Security Threat Report, exploring the last 12 months of attacks against computers and what the future might hold for threats.
Inside you'll find a wide variety of threats discussed including:
Social networking threats
Data loss and encryption
Web threats
Email threats
Spam
Malware trends
Windows 7
Apple Macs
Mobile devices
Cybercrime
Cyberwar and cyberterror
One of the key findings is that reports of social networking spam and malware attacks have risen an astonishing 70% in the last year. Facebook, in particular, is branded the riskiest of the social networks.
(Enjoy this video? You can check out more on the SophosLabs YouTube channel and subscribe if you like)
Download the PDF of the Sophos Security Threat Report 2010 now, and enjoy the read!
Additionally, you might be interested in watching the web seminar I recorded in conjunction with Dark Reading: