My apologies if you were expecting this to be details of which nations had the most porn sites, this is actually all about the top ten countries hosting malware on the web, passing on virus infections to innocent computer users.
Every day Sophos discovers over 50,000 newly infected webpages, and its findings reveal that the problem of compromised websites is truly global.
Top ten countries hosting malware on the web, January – December 2009: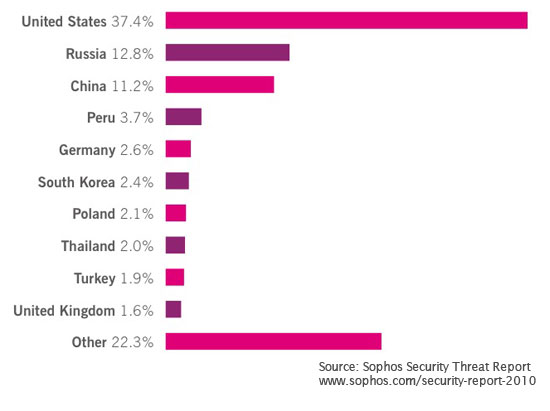 So, the USA is still the dirty man of the web world – hosting more dangerous infected websites that any other country.
While China and Russia continue to provide some strong competition for the top position, China's share has dropped considerably from second place with 27.7% in 2008 to third behind Russia with just 11.2% in 2009.
That may surprise some people, as so much emphasis is given in the media to cybercrime and hacking attacks originating from China. But you need to remember that just because the malware is planted on the web in these countries doesn't necessarily mean that the hackers themselves are based in the same place.
Cybercriminals will attempt to infect websites anywhere in the world – it's perfectly possible for a website in Tooting to be infected by a hacker in Timbuktu.
China's drop down the chart continues a trend set in 2008, when China's figure had dropped from 51.4% in 2007. The remainder of malicious pages are scattered all over the world, with Peru moving strongly up the list to fourth place with 3.7%.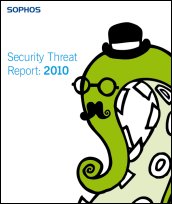 The graph of the Top 10 malware-hosting countries comes from Sophos's latest Security Threat Report, exploring the last 12 months of attacks against computers and what the future might hold for threats. If you haven't already downloaded it – I'd recommend you do so straight away.
The traditional method of web attack was for hackers to create maliciously crafted sites and lure victims in with promises of desirable or salacious content – and this technique still continues to flourish. But it is now rivalled by the huge problem of criminals injecting viral code into legitimate sites that have not been properly secured.
These hacked sites are particularly dangerous because of the large amount of traffic they may already receive, and because visitors may feel they can trust any unusual popups they see.
One of the growing methods through which hackers exploited legitimate websites during the last 12 month was the placing of malicious adverts (known as "malvertising"). Websites that fell victim to malvertising attacks, and thus passed infections on to their readers, included the New York Times and technology website Gizmodo.
Other compromised legitimate websites seen in the last year have included the sites of fish-and-chip chain Harry Ramsden's, and foreign embassies. Many of these sites served up fake anti-virus scans, designed to scare visiting users into believing that their computer had a security problem and trick them installing dangerous software or handing over their credit card details for a 'cure'.
Webmasters need to take much better care of their sites, ensuring that they are securely coded and properly patched against hackers injecting malicious software into their pages.
Meanwhile, all computer users should be protected by a security solution that scans every webpage visited, and every link clicked on, to see if it could contain dangerous content. You scan your email for viruses – you should do the same for websites.
Maybe the USA would do well to get its own house in order, for the benefit of all of us.