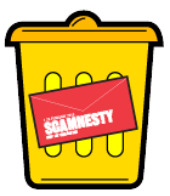 Well done to the British Office of Fair Trading for dreaming up an imaginative method to raise awareness of scams amongst the general public.
Aside from providing a contact email address for internet users to report scam websites and messages, it has also placed special "Scamnesty" bins up and down the country for recipients to dump the unsolicited scams they receive through the regular post too.
All of this is in aid of Scam Awareness Month, which is aiming to educate citizens about the wide variety of scams operating today, including lottery scams, weight loss scams, get-rich-quick schemes, bogus psychic predictions and even scams sent via SMS text messages to mobile phones.
The awareness campaign is being backed up by a "Don't get scammed" TV advert:
According to a survey of over 5,700 people, 73% of adults have received a scam email in the past year with – as was discussed in the recently published Sophos Security Threat Report – an increasing use by fraudsters of social networks.
The survey, conducted for Scam Awareness Month, also reveals that one in 11 British adults have responded to a scam at some time in their life, with nearly a third losing money as a result. It's estimated that UK consumers are being hit to the astonishing tune of £3.5 billion each year (that's £850 lost on average by each victim).
So, an awareness campaign to raise a profile of the problem seems like a very good idea to me. Find out more on the Scam Awareness Month website.