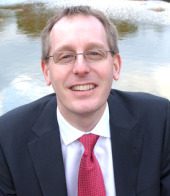 British MP David Wright has found himself in hot water this week after being accused of posting an offensive message about his Tory party rivals on Twitter.
The Member of Parliament for Telford, Shropshire, made the headlines when a message appeared on his Twitter page describing Conservatives as "scum-sucking pigs":
#iveneverwrotedtory because you can put lipstick on a scum-sucking pig, but it's still a scum-sucking pig. And cos they would ruin Britain
As political rivals questioned whether this was appropriate language for a Minister of the Crown, Wright noted that he must have hit a nerve amongst Tory supporters

before making a number of perhaps ill-advised clarifications and apologies, deleting the offending tweet, and then ultimately claiming that he had never used the phrase "scum-sucking" at all.
Wright is now claiming that although he did post about putting lipstick on pig, someone else added the phrase "scum-sucking" after he published his tweet.
Hmm.. that would be a first. There are plenty of cases of hackers breaking into Twitter accounts and posting offensive messages, but I've never heard of them changing a message.
And it's perhaps relevant to realise that The Right Honourable David Wright MP has used similar language on his Twitter page in the past when discussing Tory leader David Cameron ("dc"):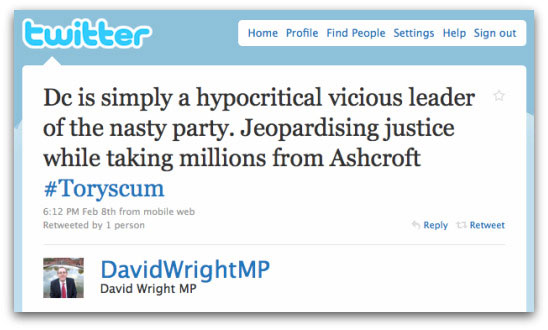 Wright last tweeted at 9:11pm on Monday, claiming that he would report back to his followers once he found out more about the alleged hack:
What a commotion today. Looks like my tweets have been tinkered with. I will keep you posted
In my opinion, this case is pretty clear cut. The MP isn't telling the full truth about what happened on his Twitter page. I think it's most likely that he did post the message, and then decided upon the hacking excuse after the heat was turned on.
Everyone can make a mistake and exhibit poor judgement – it would probably have been better if David Wright had just said: "It's a fair cop. I'm sorry for offending people with my tweet" rather than demand that Twitter investigate who may have broken into his account.
Does any of this really matter? Clearly opposing politicians are trying to maximise Wright's discomfort over what he tweeted, but it's not the worst thing a British politician has done lately.
But it is a salutary reminder to all of us to think about the consequences of what we post on the internet, even if we are trying to be "down with the kids" and riding the hip wave of social networking phenomena like Twitter. An inappropriate tweet may not just be the vehicle for data leakage, it can also damage your personal or corporate reputation.
By the way, if you're interested in finding out what anti-virus experts think about putting lipstick on pigs – watch this video.