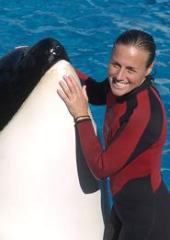 Dawn Brancheau, a trainer at Sea World in Orlando, was killed yesterday after being attacked by a killer whale.
News of the tragedy sped quickly around the world, and now sick cybercriminals are exploiting the story of 40-year-old Brancheau's death for their own commerical gain.
Through SEO (search engine optimisation) techniques, hackers have created webpages stuffed with content which appears to be ghoulish video footage of the animal trainer's death – but are really designed to infect visiting computers.
Searching for terms such as
killer whale video pictures
and
dawn brancheau video
can lead you to dangerous search results: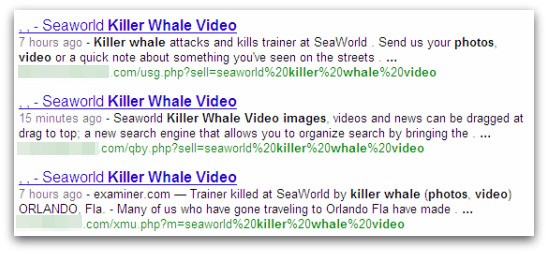 The heartless hackers are taking advantage of the hot news story by popping up fake anti-virus (also known as scareware or rogue anti-virus) alerts. The alerts are designed to frighten unsuspecting users into believing there is a security problem with their computer, which could lead them into downloading dangerous software or handing over their credit card details.
The tactic being used by cybercriminals is the same as the one we saw after the death of Natasha Richardson and Patrick Swayze, and when they exploited interest amongst the public in the anniversary of the 9/11 terrorist attack last year.
You could argue that anyone hunting for footage of this horrific accident deserves everything that's coming to them, but the real sick ones here are the hackers who are trying to profit from the death of an innocent woman in a tragic accident.
Sophos is adding detection of the fake anti-virus software hosted at these sites as Mal/FakeAV-BW.