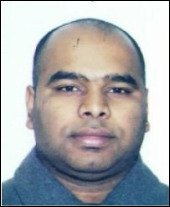 The mastermind behind one of the world's most notorious underground internet forums was sent to jail for four years and eight months on Friday.
33-year-old Renukanth Subramaniam created DarkMarket, a website for cybercriminals and fraudsters to buy and sell stolen credit card details, driving license information and bank account passwords for the purposes of identity theft. Furthermore, DarkMarket members would share information on how to infect innocent users' computers with spyware and Trojan horses.
Blackfriars Crown Court in London heard that Sri Lanka-born Subramaniam, who went by the online handle "JiLsi", ran his DarkMarket operations from internet cafes in an attempt to cover his tracks. At its peak, DarkMarket is believed to have numbered some 2500 members, with the criminals who collaborated via the site causing global losses estimated at tens of millions of pounds.
Subramaniam may have thought that crime was a fast track out of his former life as a pizza delivery man, but the story has ended badly for him with a prison sentence.
Another DarkMarket member, John "Devilman" McHugh of Doncaster, South Yorkshire, was sentenced to two years in prison after a search of his house uncovered a counterfeit credit card factory.
This is unlikely to be the last we hear of DarkMarket. In 2008 law enforcement agencies around the world arrested some 60 people as part of their investigation into the cybercrime network. More prosecutions, therefore, can probably be expected.
Here's a video from 2008, showing the arrest of DarkMarket administrator Cagatay Evyapan (also known as Cha0) by Turkish police:
If you're interested in learning more about DarkMarket, you should read the fascinating piece by Elinor Mills of CNET where she interviewed FBI agent J Keith Mularski, who went undercover for two years, posing as a hacker called "Master Splynter", to infiltrate the group: Q&A: FBI agent looks back on time posing as a cybercriminal.