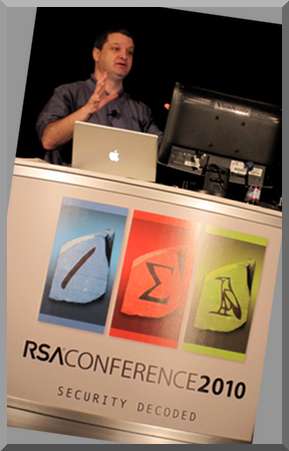 I'm currently attending RSA 2010, one of the year's biggest security conferences, in San Francisco. I've just finished giving my presentation, Anti-Virus is Dead!. (It isn't dead, of course. It's just become rather different from what it was in the 1980s when computer viruses and other malware first appeared on the personal computer scene.)
In the talk, I visited a couple of items of ancient history – the Cascade virus from the late 1980s, and the AIDS Information Trojan from 1990. The AIDS Trojan was ransomware, making it the first attempt at commercialised cybercrime. We also looked at recent malware, and how the arms race between the good guys and the bad guys has unfolded.
For those of you not lucky enough to be with me at RSA in California, why not sign up for the next Sophos Web Bytes, our monthly security webcast?
The next Web Bytes takes place online on Wednesday 10 March 2010 at noon AEST (Sydney time, UTC+10).
I'll be doing a live demo, showing how JavaScript malware works. Know your enemy and you'll be better equipped to defend against him!
It's free to sign up, and you can attend right from your own desk.