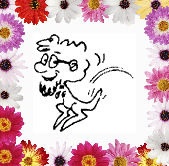 Last night I totally failed to win the title of Most Popular Security Blog at the SC Awards gala dinner, held in San Francisco.
Congratulations to Gary Warner, who writes the "Cybercrime & Doing Time" blog for his well-deserved win in a hotly contested category.
I should have known the night wasn't going to go my way when I turned up and realised I was the only one wearing jeans (I had wangled a last minute invite about an hour before kickoff, and everyone else was booted and suited), and when I twigged that I had misheard who the compere for the evening was going to be.
You see, I thought they said "Rolf Harris" (legendary Australian artist, didgeridoo player and singer of classics like "Tie Me Kangeroo Down Sport" and the weepie guaranteed to make grown men cry, "Two Little Boys"). Instead it turned out to Ralph Harris.
Congratulations to everyone who won awards last night. Tonight there will be more opportunities for finger-biting drum rolls at the the "Security Bloggers Network Social Security Awards", with many of the world's top security bloggers gathering in secret to drink beer and announce whose blogs they like the most.


Meanwhile, the RSA show continues.
I just saw my fellow blogger Duck give a great presentation where he demonstrated live malware from yesteryear such as Cascade and the AIDS Information Disk, as well as a more recent example – the Induc worm which hit Delphi programmers.
Mikko Hypponen from F-Secure tells me that some of his colleagues will be demonstrating the Brain virus from the mid 1980s in one of their talks, so that will be another blast from the past.
Bringing things right up to date, I'll be discussing the latest social networking threats in my presentation today at 1pm Pacific Time, Blue Room 102 (Session Code: HT1-204). If you're at the RSA Conference please come along and promise not to heckle too much.