In another attempt at creating Twitter spam, hackers have acquired access to hundreds of legitimate Twitter accounts. It is unclear the origin of the attack at this point. These attacks can occur in one of two primary methods.
Last month twitter.grader.com was hacked allowing scammers to post messages through Twitter's API to anyone who had enabled access to the service.
The other primary method is through phishing. I will continue to investigate this attack and update this post as more information becomes available. Anyone who was victimized by this attack and is willing to help is encouraged to email me at chesterw[at]sophos.com.
One very prominent cranky geek, John C. Dvorak, was a victim in this attack. He tweets as THErealDVORAK and sent out the tweet "Check out this diet I tried, it works!" with a TinyURL included. This is not likely to solve the issue of John being a bit cranky.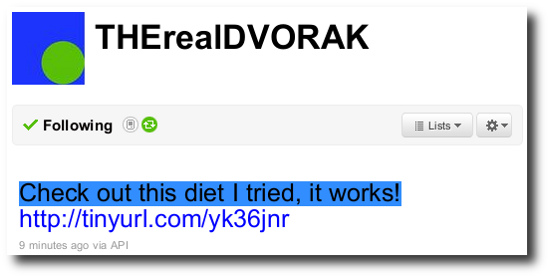 The site in question is another of the scam diet pages that also clog your email inboxes.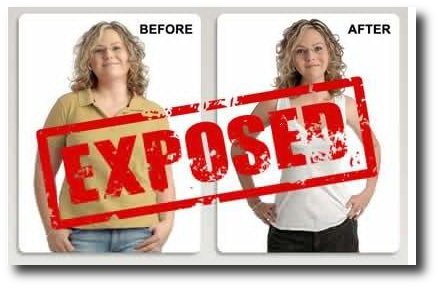 If you have been victimized by this attack, please revoke API access to all your applications immediately. Instructions can be found in my blog post "12 tips of Christmas – A safer Twitter for 2010".

Update 1: Dvorak and others are still compromised. It appears to be related to API access to the victims accounts. Unfortunately new messages are still being sent out.
Update 2: @FerrariUSA and a fake Monica Lewinsky account appeared to be ensnared as well. It is difficult to measure the full scope of accounts, but it appears to be large enough that it's unlikely to be phishing related.
Update 3: It appears @THErealDVORAK is regaining control of his account. These attacks are happening via API, be sure to revoke API access as well as changing your passwords folks!
Update 4: Dvorak admitted he had a weak password, it's possible this attack was brute force.
Update 5: Twitter is now sending out password resets to affected accounts. Appears to be password compromise, not an OAuth application.